Grand Design RV and Camping World Unveil First-Of-Its-Kind Grand Design Exclusive Store in Green Bay, Wisconsin
October 13, 2023 at 5:45 PM EDT
GREEN BAY, Wis. and MIDDLEBURRY, Ind., Oct. 13, 2023 (GLOBE NEWSWIRE) -- Grand Design RV, a wholly owned subsidiary of Winnebago Industries (NYSE: WGO) and one of the fastest-growing RV brands known for its top-of-the-line recreational vehicles, and Camping World, the world's largest recreational vehicle dealer, proudly announce the opening of the exclusive Grand Design brand store in Green Bay, Wisconsin.
This distinctive store delivers a new standard in RV customer experience. Customers visiting the Green Bay dealership will be treated to a premier showcase of Grand Design's signature travel trailers, fifth wheels, and toy haulers complemented by a specialized RV sales and service experience.
"Our collaboration with Grand Design represents a significant milestone in our journey to revolutionize the RV market," said Marcus Lemonis, Chairman and CEO of Camping World. "The Green Bay store embodies our shared commitment to excellence and our vision for the future. We're delighted to strengthen our alliance and introduce this first-of-its-kind RV retail experience in Wisconsin."
The grand opening event will take place October 13th - 14th, with a weekend of celebratory activities, enticing promotions, and opportunities for attendees to engage with key representatives from both brands. The event is open to the public; the media, local community, and RV enthusiasts nationwide are invited to mark this historic occasion.
"We are excited to bring a Grand Design exclusive store to our customer community in a new and immersive way," said Don Clark, Grand Design RV CEO and President. "At Grand Design, we have always been dedicated to innovation, quality, and creating customers for life. We believe this new dealer platform reflects that commitment and positions us well for continued growth."
Beyond its impressive lineup of RVs, the Grand Design exclusive store has a state-of-the-art service center, ensuring that customers receive professional RV service and maintenance support, a comprehensive parts and accessories department, and a Good Sam Business Center offering the full suite of Good Sam products and services.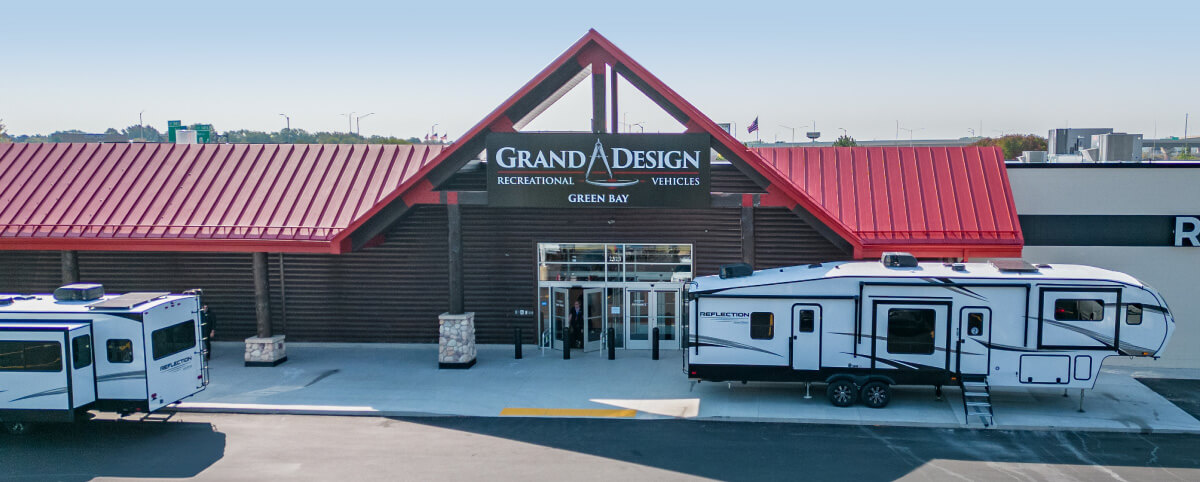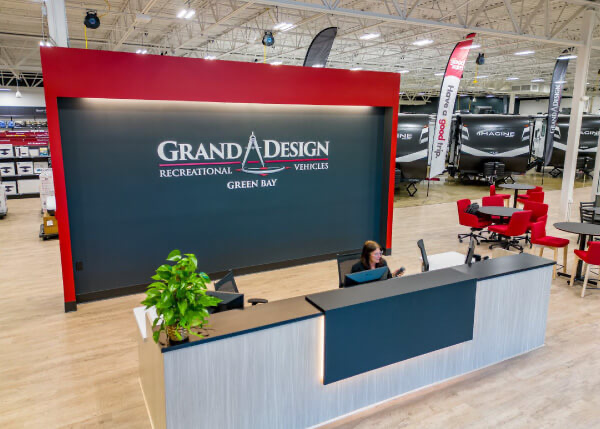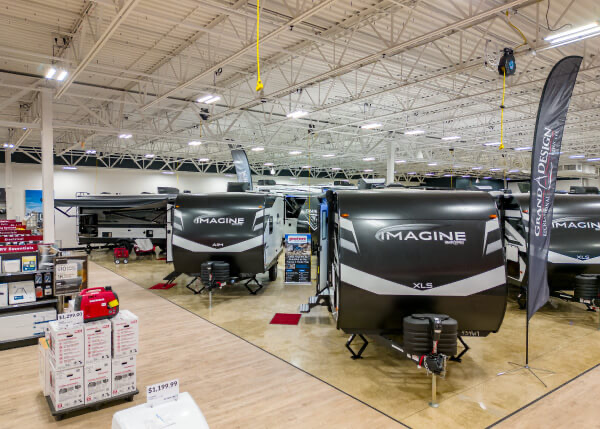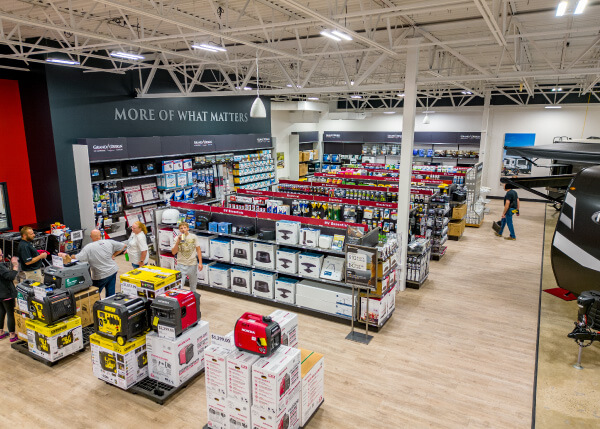 About Camping World Holdings, Inc.
Camping World Holdings, Inc., headquartered in Lincolnshire, IL, (together with its subsidiaries) is the World's largest retailer of RVs and related products and services. Our vision is to build a long-term legacy business that makes RVing fun and easy. Our Camping World and Good Sam brands have been serving RV consumers since 1966. We strive to build long-term value for our customers, employees, and shareholders by combining a unique and comprehensive assortment of RV products and services with a national network of RV dealerships, service centers and customer support centers along with the industry's most extensive online presence and a highly trained and knowledgeable team of employees serving our customers, the RV lifestyle, and the communities in which we operate. We also believe that our Good Sam organization and family of programs and services uniquely enable us to connect with our customers as stewards of the RV enthusiast community and the RV lifestyle. With RV sales and service locations in 43 states, Camping World has grown to become the prime destination for everything RV. For more information, visit www.CampingWorld.com.
About Grand Design RV
Grand Design RV®, headquartered in Middlebury, Indiana, manufactures the market-leading Reflection® Fifth Wheel and Travel Trailer, flagship Solitude® Extended Stay Fifth Wheel, luxury Momentum® Toy Hauler, lightweight Imagine® Travel Trailer, and introductory level Transcend™ Travel Trailer product lines. Since its founding in 2012, Grand Design RV has become one of the fastest-growing RV companies in history and rated among the highest quality RV manufacturers. Grand Design RV is a wholly-owned subsidiary of Winnebago Industries (NYSE: WGO), a 65-year old manufacturer of outdoor lifestyle products. For access to Winnebago Industries' investor relations material or to add your name to an automatic email list for Company news releases, visit http://investor.wgo.net.
Contact:
Camping World
Brett Andress: InvestorRelations@campingworld.com
Media Outlets: PR-CWGS@CampingWorld.com
Winnebago Industries
Ray Posadas: IR@winnebagoind.com
Daniel Sullivan: Media@Winnebagoind.com
A photo accompanying this announcement is available at https://www.globenewswire.com/NewsRoom/AttachmentNg/23709af9-6896-43e7-82ec-fc8a090a55d1